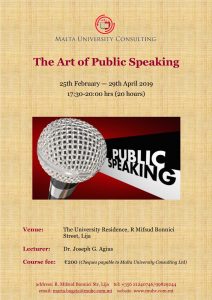 Malta University Consulting Ltd will once again offer the course on The Art of Public Speaking during the months of February/March/April 2019. This is a 20-hour course and the lectures will take place at the University Residence, Lija.
This course focuses on effective public speaking, particularly dealing with the fear of speaking. The participants are shown that public speaking is fun and easy.  The only way to master public speaking is to do it and there is no better practice than to be in the spotlight, microphone in hand, expectant audience listening to your every word.
The course coordinator and tutor is Dr Joseph Agius who is a registered European Fluency Specialist and Speech Language Pathologist with special interest in fluency disorders and humour research.
Further information may be obtained from Malta University Consulting Ltd.
tel:  +356 21 240746/ +356 9982 9244;  email: maria.bugeja@muhc.com.mt
website:    www.muhc.com.mt