Award in
The Art of Public Speaking
DATE & TIME
4th October – 6th December 2021
5.30pm – 8.00pm
TUTOR
Dr Joseph G Agius, M.Sc. (Dublin), Ed.D. (Sheffield)
REGISTRATION FEE*
€349/UM students €339
ACCREDITATION
This course has been approved by the National Commission for Further & Higher Education (NCFHE) as equivalent to Level 5          (4 ECTS) – License No:  2013-FHI-019; Further & Higher Education Institution
Get up to 70% of your Course Fees back: 
This course has been approved by Malta Enterprise                  under the Get Qualified Scheme
Employers:
Speak to us about claiming from the Jobsplus Investing in Skills Scheme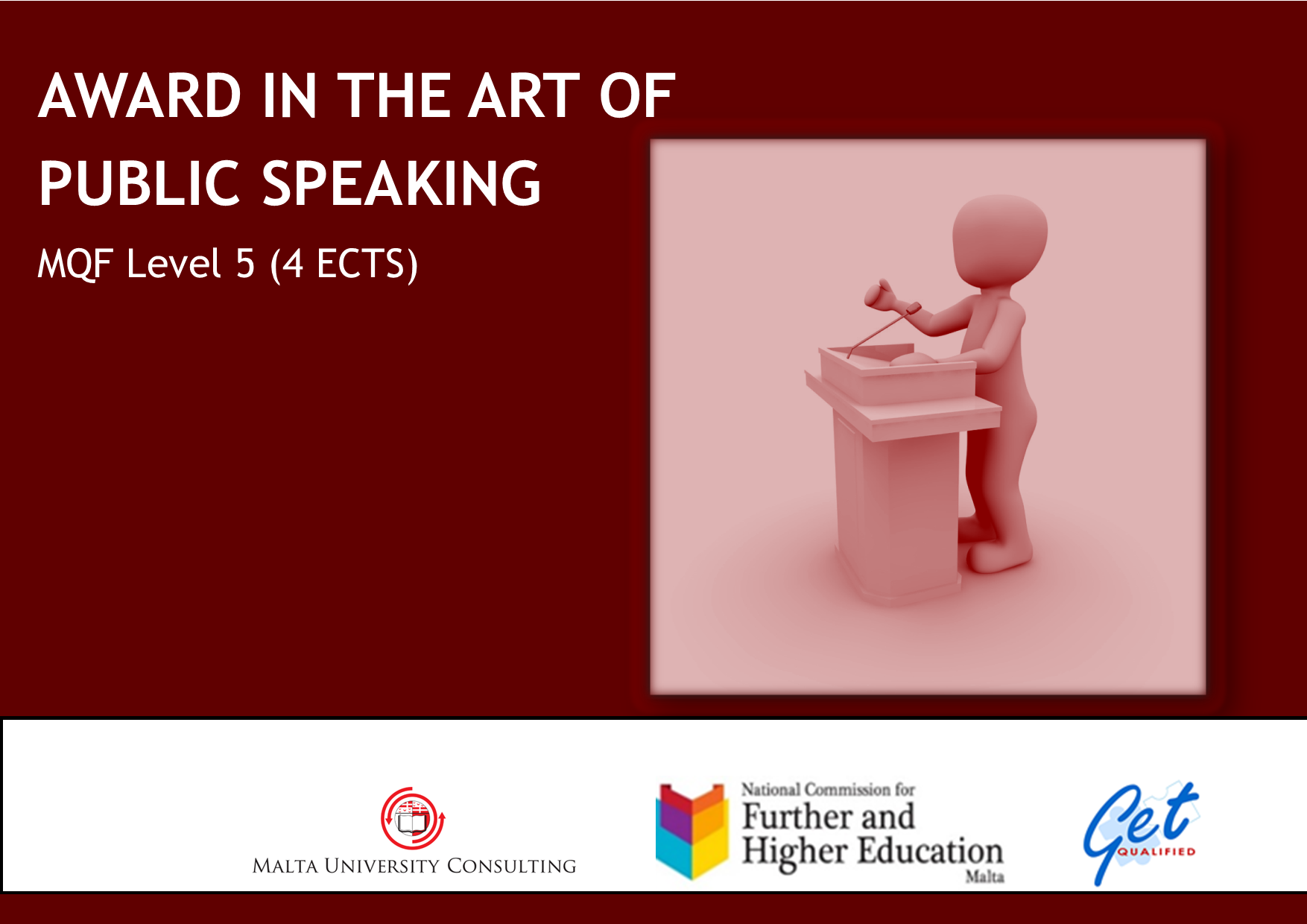 ABOUT  THE  COURSE
The aim of this course :
to practice in both impromptu and prepared speeches
addresses the important issue to 'wake 'em up!" during presentations!
by the end of the course participants should be on their way to becoming successful public speakers
THE LECTURER
Dr JOSEPH G AGIUS, M.Sc. (Dublin), Ed.D. (Sheffield), is a registered European Fluency Specialist and Speech Language Pathologist with special interest in fluency disorders and humour research. He holds a Master of Science degree in Clinical Speech and Language Studies from Trinity College, University of Dublin and a Doctor of Education degree from the University of Sheffield. As partner expert nominated by the University of Malta, Dr Agius collaborates with experts from thirteen European Universities on the development and delivery of the 'European Clinical Specialization Course in Fluency Disorders'. He has an extensive background in training, lecturing and public speaking. Dr Agius has experience working with diverse populations around Europe helping to develop skills in communication, leadership, public speaking, and conflict management. He is Advanced Practitioner at the Speech Language Department, Ministry of Health, Malta. Dr Agius lectures at the University of Malta on 'Fluency Disorders', 'Language and Psychiatry' and 'Legal and Ethical Issues' and is member of the Fluency Committee of the International Association of Logopedics and Phoniatrics
WHAT'S  INCLUDED
Upon successfully completing the course with 80% attendance, attendees will receive an NCFHE Accredited Certificate from Malta University Consulting Ltd.
email :  trainingservices@muhc.com.mt
tel:        +356 21 240746 / 99829244