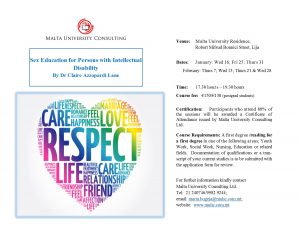 Malta University Consulting Ltd is organizing a short course on Sex Education for persons with Intellectual Disability.    This course, scheduled for January 2019 is spread over 7 weeks with the sessions taking place at the Malta University Residence, Robert Mifsud Bonnici Street, Lija.
This course aims at equipping participants with the skills and tools required to address the sex education needs of persons with Intellectual Disability (ID).
Course requirements:  A first degree/reading for a first degree in one of the following areas:  Youth Work, Social Work, Nursing, Education or related fields.  Documentation of qualifications or a transcript of your current studies is to be submitted with the application form for review.