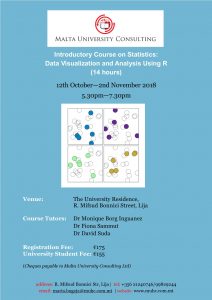 Malta University Consulting Ltd is offering a short
Introductory Course on Statistics:  Data Visualization and Analysis Using R.
This 14 hour course is targeted to individuals who are not familiar with basic statistical concepts or individuals who have attended some basic course in Statistics but would like a refresher course and perhaps even learn more than was covered in their previous education and/or training.   The aim is to provide a painless introduction to statistical analysis to users with a non-mathematical background.
This course is scheduled for October/November 2018 and the sessions will take place at the University Residence, Robert Mifsud Bonnici Street, Lija.
Further information may be obtained from Malta University Consulting Ltd on 21240746;  email:   maria.bugeja@muhc.com.mt.