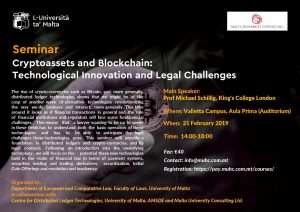 'Cryptoassets and Blockchain: Technological Innovation and Legal Challenges'
Speaker: Prof Dr Michael Schillig, Professor in International Commercial & Financial Law at King's College London
Abstract: The rise of crypto-currencies such as Bitcoin, and, more generally, distributed ledger technologies, shows that we might be at the cusp of another wave of disruptive technologies revolutionizing the way we do business and interact, more generally.
This time around it looks as if financial transactions in general and the role of financial institutions and regulators will face some fundamental challenges. This means that a lawyer wanting to be up to speed in these fields has to understand both the basic operation of these technologies and has to be able to anticipate the legal challenges these technologies pose. This seminar will provide a foundation in distributed ledgers and cryptocurrencies, and its legal contexts. Following an introduction into the underlying technology, we will focus on the potential these new technologies hold in the realm of financial law in terms of payment systems, securities holding and trading, derivatives, securitization, Initial Coin Offerings and resolution and insolvency.
Date: Thursday 21 February 2019
Time: 2pm-6pm
Venue: Aula Prima (Auditorium), Valletta campus
Tickets: https://pay.muhc.com.mt/courses/
Facebook event page: https://www.facebook.com/events/2141766649468481/
Contact: info@muhc.com.mt
Organisers: Department of European and Comparative Law, Faculty of Laws in collaboration with Malta European Law Association (AMSDE), Centre for Distributed Ledger Technologies, University of Malta and Malta University Consulting Ltd.
More information can be found at the event Facebook page