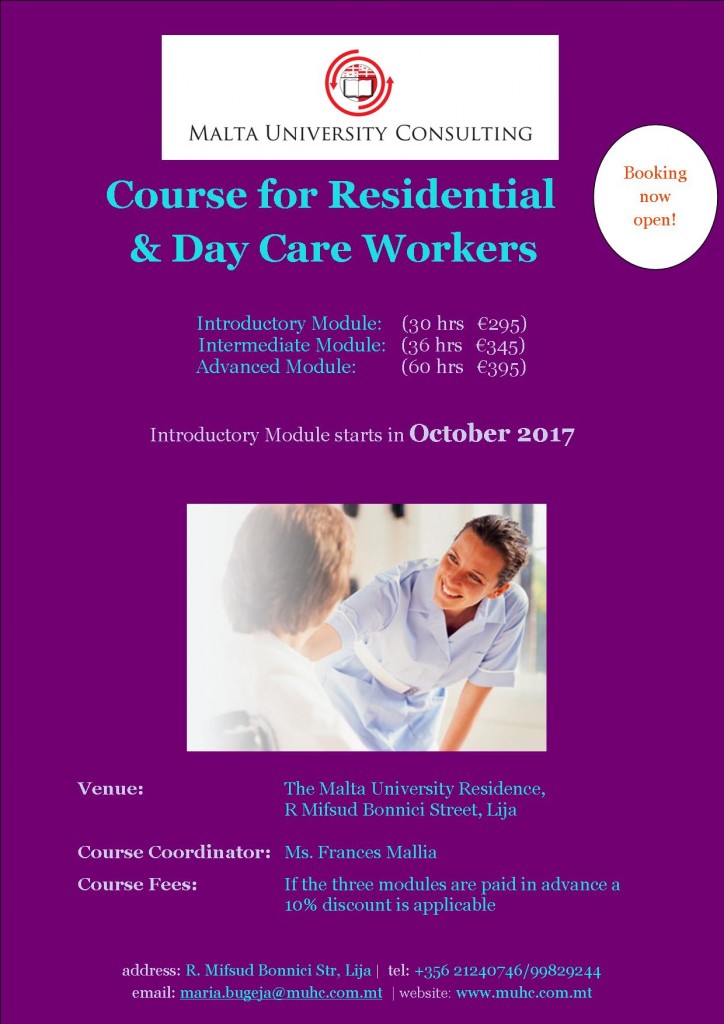 Malta University Consulting Ltd will once again be offering the course for Residential & Day Care Workers from October 2017 to May 2018.  The lectures are held at the University Residence in Lija. 
This course has been developed as a flexible learning pack. It is designed to help the residential/day care worker develop the personal and interpersonal qualities and skills relevant to the caring services. The style of learning to be adopted throughout the course will be interactive; hence the participation of students is essential. This course will develop the knowledge, understanding, practical skills and values for employment or further study in the caring service. The course is very practical and will develop the experience and knowledge that employers in the caring field are looking for.  It is particularly relevant for those who are starting out their career in care-working or who have significant experience but no formal training background.
This one-year course is split into three modules, the Introductory Module, the Intermediate Module and the Advanced Module.  To complete the course candidates should have successfully completed the three modules.
The National Commission for Further and Higher Education deems this course to be at Level 4 (25 credits) of the Malta Qualifications and of the European Qualifications Framework for Lifelong Learning. (Licence Number:  2013-FHI-019; further & Higher Education Institution).
Introductory Module Course Description
Introductory Module – Registration form
Intermediate Module Course Description
Intermediate Module – Registration Form
Advanced Module Course Description
Advanced Module – Registration form

For further assistance please contact Malta University Consulting Ltd.
tel:    21 240746/9982 9244; 
email:  [email protected]