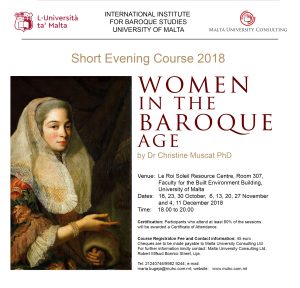 The International Institute for Baroque Studies, University of Malta in collaboration with Malta University Consulting Co Ltd will be organising a short evening course on 'Women in the Baroque Age'.
This course deals with the role and condition of women from the late sixteenth century to the late seventeenth century.     The course will be delivered through a series of lectures and group discussions.    Lectures will be supplemented with a site visit which will enrich the participants' experience of the topic.
The lectures will take place at Le Roi Soleil Resource Centre, Room 307, Faculty for the Built Environment Building.
For further assistance kindly contact Malta University Consulting Ltd.  tel  21 240746/9982 9244   email:  maria.bugeja@muhc.com.mt;    website:    www.muhc.com.mt